"The Micropole values that I find most important are: autonomy, respect and commitment."
"Living the Data Adventure" is a series of interviews with our #InnovativePeople. The topic? 
Their experience working for Micropole BeLux and how they see the future through data. Read on to learn more about our next interviewee: Laurence!
Introduction
Find out what it means to work at Micropole and what passions drive our Innovative People outside of work in this interview with our Data Intelligence expert, Laurence. Want to know more? Watch the video and read on!
Laurence, who are you? 
"Hi, my name is Laurence Trickett and I'm a data intelligence expert with a strong background in data warehousing and data visualization."
"I am, also, the proud father of two boys."
"I really enjoy listening to music. I'm really in love with music. I tend to read a lot about it. I also like to travel a lot. I hope that when the pandemic is over, I can start traveling again."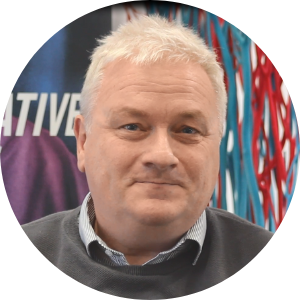 What do you do at Micropole?
"I am a senior consultant, specializing in SAP BI tools."
"I currently work in the energy sector as a 'designer' and 'solution developer'."
What do you like most about Micropole?
"If I had to choose three values that fit me the most, personally, I would say: autonomy, respect and commitment."
Want to join the #InnovativePeople?
Click on the 'join us' button below!
We pride ourselves on providing an innovative environment and the latest tools to help you explore your ideas, challenge the norm and develop your skills. Micropole is a dynamic and friendly company that demonstrates a passionate commitment on a daily basis.
ARE YOU PASSIONATE ABOUT DATA?