While conversations in bank corridors used to focus mainly on exchange rates, the stock market and futures accounts, an important topic has been added over the past decade: data. Public information and transaction or customer data form the basis of the bank of the future.
Ken Van Gansen, Head of Digital Programs at Belfius, explains how data can be used to become even more customer-centric.
Cloud data platform provides more information
As a bank and insurer, Belfius has been focusing on data for years. By combining data from both branches, it is possible to gather better information for the benefit of customers. The goal? To move towards a real-time data environment.
Belfius processes hundreds of thousands of transactions every day and uses this information to offer customers a better, more in-depth view of their spending. This was made possible thanks to a partnership with Micropole. A complete cloud-based data platform was put in place within nine months.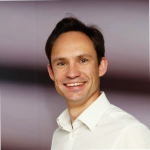 By joining forces with Micropole,
we're moving towards a near-real-time data environment and can continue to use innovative technology responsibly.
Head of Digital Programs at Belfius
The data platform will enable Belfius to continue innovating in the years to come. Thanks to intelligent search, customers will receive immediate suggestions when searching for data. Belfius also wants to make its chatbots smarter. The more conversations customers have with them, the more these systems can become personal assistants. In this context, Belfius is currently developing an implementation of Belfius ChatGPT in collaboration with Microsoft. Here too, the bank is not waiting for the future, but taking the lead with GenAI.
Read the full interview (NL) here :
Are you ready to migrate to the cloud?
Our data-centric approach prioritizes a "golden triangle" with the customer at the center. It's important to determine the right use cases based on value creation and utility within the organization.