After Microsoft announced Microsoft Fabric at the Build conference starting May 23, 2023, the platform was launched as a public preview. It's packed with features to unify your data domain and reshape the way your entire team consumes data. Built entirely on delta lake, the enhanced serverless engine will make some waves in the data world. Having reviewed most of what Microsoft Fabric currently has to offer, here are 5 tips to get you started!
Tip 1: Get a (trial) account
For some organizations, you can follow the steps described here to access the trial account.
If you get the following response "Your organization does not currently allow its users to purchase Microsoft Power BI. Contact your IT administrator for more information".
You will need to contact your IT administrator or helpdesk and follow the solution described here.
Please note that not all licenses support the use of Fabric technology. The only licenses that currently support the use of fabric are "Microsoft Fabric trial", "Power BI Premium Per Capacity (P SKUs)" and "Microsoft Fabric Capacity (F SKUs)". To find out more, click here.
For more tips and tricks on setting up a trial account, see the documentation Considerations and limits of a trial account.
Tip 2: Use test data sets
Can't create your own dataset? Don't worry, you can easily use sample data to get started. Simply launch a pipeline and copy an open dataset. However, see Tip 3 if you want to copy a dataset into an existing database.
Want to take data ingestion a step further? You can also create a data warehouse with a sample warehouse :
The result is sample tables that can be queried immediately and used to create reports.
Tip 3: Copy data to your lake house from the "Data Engineering" tab, not the "Data Factory" tab.
You can start copying data directly from the 'Data Factory' tab. At the moment, I can't find the existing lake house in my fabric environment.
Instead, create a new data pipeline from the "Data engineering" tab. To do this, click on "Get data" -> "New data pipeline" :
Tip 4: Take note of your (trial) account's capacity units to avoid throttling.
"When you start a Fabric (Preview) trial, Microsoft provides a trial capacity of 64 capacity units (CUs)."
Fabric (preview) Trial - Microsoft Fabric | Microsoft Learn
Depending on the activities you perform, you'll have a specific number of CPUs at your disposal. When you reach the capacity limit, a bottleneck occurs. Here are the steps you need to follow to report on your CPU utilization.
To do this, we'll be using a Power BI application. You can go to https://app.powerbi.com/.
Then select "Apps". Then click on "Get Apps" to obtain the Microsoft Fabric Capacity Metrics application.
When you open the application, it will ask you for your capacity identifier:
From here, you will see your capacity(ies) listed:
If you click on your (trial) account :
You can see the capacity identifier in the top url.
Once the application is fully loaded, you may need to select your capacity account again in the top-left display.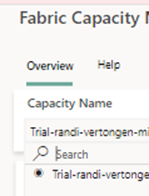 After that, you should be able to start tracking CU usage on your capacity:
Tip 5: Manage your connections in bulk from the PBI application instead of Fabric.
When you press edit on a connection in azure fabric copy data, the Power BI application opens.
Here you can manage certain parameters related to this connection:
However, if you encounter problems or close the tab, the web page will be displayed again. You won't be able to manage other visible connections.
If you want to stick around, go straight to the PBI workspace (https://app.powerbi.com) to manage your data connections:
While it's certainly easier to get started with Microsoft Fabric than with other end-to-end solutions, there can still be some moving parts to understand when working with the product. The dilemma of knowing when to manage the workspace via the Power BI portal and when to manage it via the Microsoft Fabric portal is a case in point.
Of course, Fabric is only in public release at the time of writing, so this is a normal phenomenon. We can't wait to see where this product goes next!